I seriously recomend you check out Methodology. I was just introduced to them, they're a very cool funk outfit in Toronto. Visit their website here, or visit their myspace here. You can download some tracks and listen to them on their myspace. It's really worth your while. So, having done that, I'm sure you want to go and check them out live... right?
Well! They have happen to be throwing a release party on Friday the 27th of January, supported by my good friend DJ Shagz. If you're a diligent reader you might know that I've missed every Shagz related event I've tried to go to lately, so hopefully third time's a charm.
What? Methodology CD Release Party w/ DJ Shagz Where? Revival, 783 College St West, Toronto When? 9pm-? Cost? $10 cover, or $20 for cover+CD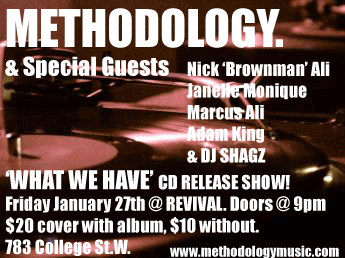 I think I can only afford cover x2, but so if my wife doesn't come along... I might just buy myself the CD. Trust me my fine friends, it's worth your while.
"Now if you all really like to rock the funky beats, somebody in the the house say "Hell yeah!""